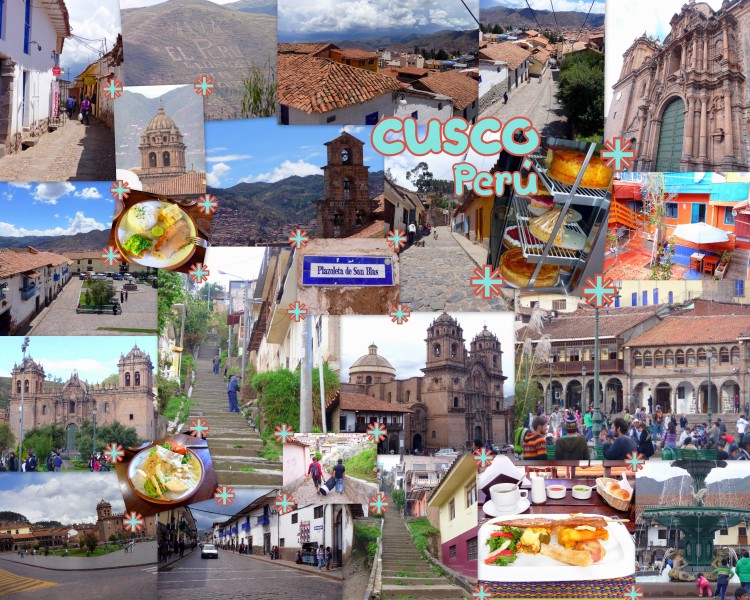 With Gregoire we've also visited Chinchero Рknown as the birthplace of the rainbow, Cusco flag (Ariane you would have love that, you left too early!) a tipical Andean village Рsorry no picture I forgot my camera that day! Рafter Ariane left us.
Cusco is a pretty city and I really enjoyed resting there after this intensive Inka Trail as well as this more than 80 days travel for now…

I had a lovely backpacker hostel – Pirwa http://www.pirwahostelscusco.com/ – with really¬†friendly staff – compare to the¬†more high class hotel we had for this 2 weeks except in Arequipa – ¬†¬†in the lovely San Blas district. I love the San Blas area with these narrow little streets full of stairs – again! – the huge Plaza de Armas, this so many restaurants where you can test many different food as well as great sweets¬†and the peacefull atmosphere of the city even if it's pretty touristy!¬†While walking around yesterday, I even met a japanese women and her little girl in traditional japanese dress – funny to see the face of the locals in front of another traditonal clothe, so unusual for them I would guess…

I also cross a manifestation on the Plaza de Armas – for clean water if I get it well??… – really interesting to see natives with their local clothes mix with people dressing in a more occidental way! Pity I didn't have my camera again!
Last lunch in a lovely restaurant with a test of 3 different potatoes – ok over 3 000 different species, it's not much but still

before heading to Bolivia – Copacabana tonight