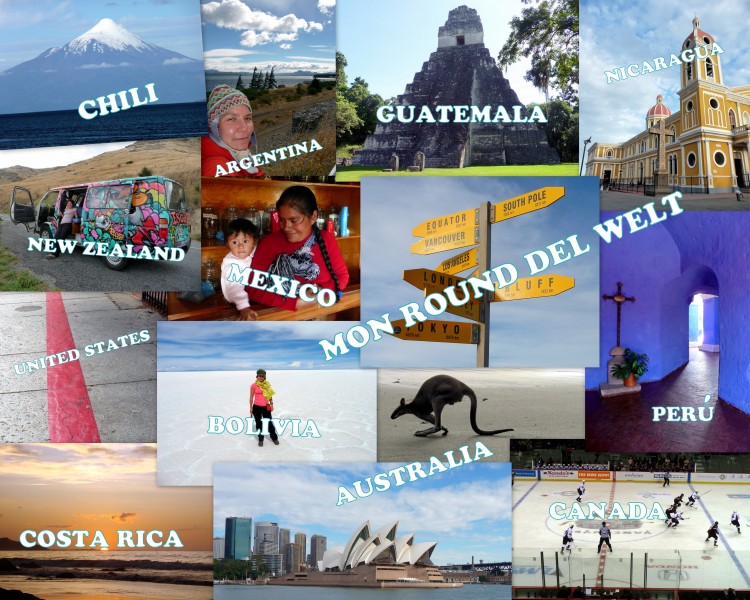 Today 15 December 2010, it's been 6 months since I came back from this amazing adventure… 6 months of routine life, more or less back to normality, that I somehow still enjoy. 6 months with up & down experiences as life always gives you…
I would have never imagine to be so glad to come back after such a journey but believe it or not, I was!!! What a release to be in the plane from Sydney back to London - I can tell you I didn't miss this one! I enjoyed very much Australia & met wonderful people – as said I'll probably go back to visit them again! - however during my travel back to Europe – during which I could hardly sleep! – I enjoyed every single minutes – even if I was a bit jealous of my neighbour sleeping like babies: remembering my travel, watching the earth from the sky: seeing fire rings between Australia & Singapore – by the way, if someone knows what is it, I'll be happy to know! – sunrise on the Caspian Sea, crossing Poland, missing Berlin, Germany & Belgium as I finally fall asleep just before the breakfast, having a great view of London which I felt so good to see: back home! Back to Europe!!! Two weeks to meet family & friends before going back to work in Germany and meet my colleagues again, do a job I know & enjoy to do, being useful again, going back to "normal" life after 9 months of wandering… I was overwhelmed by happiness! Glad to be back & happy to have realize a dream I had since more than 10 years.
First month back to "normal" life was paradise! Pure happiness! Such a good feeling to arrive to a known environment. Great to know what I do next morning, next week, next weekend… No more planning: just go to work, come back, enjoy the summer evening on the terrace with a wonderful view, have dinner, go to bed… It even felt hard to organise meeting people at the weekend…
Lucky me, when I came back, I was welcome in a big home as a princess – I could hardly dream better place after being homeless for a year! – I enjoyed very much this peacefulness & serenity after such a long trip. Insidiously, step by step, this paradise became hell… It seems that I wasn't still really back to hearth and between work & facing routine life again, I hardly had time to realize what was happening… – I can tell you that landing was really painful! – Today, I'm still wondering what really happened & still feel really hurt, disappointed & sad about this last adventure. Losing someone you trust & love, especially when you don't really understand the reason why, is extremely hard, and also difficult to let go when you see each other nearly everyday.
Anyway, you cannot feel sorry for yourself all your life unless you want to miss it… Good and bad experiences allow you to grow up. I'm intimately convince that things happen for a reason – sometimes I'm really wondering why, but hey I need to find a reason to reassure myself! – and that life always put you through things you can handle… Sometimes it's pretty hard though! As my dear friend Tanya advice me: "Feel sorry & hug yourself no more than 2min per day & keep going". Luckily, even if they are sometimes far away, I have wonderful friends all around which helps a lot and as I already learned before, you're the only person who can really make yourself feel better.
When I think about it, this travel was a wonderful opportunity. I took it. I won't say it was hard, as it really feels as a continuity, as something which meant to be, everything seems to call for it: working contract ending and not being extended, wanting and a need to escape routine life rather than settling down after such 2 difficult years, money saved to buy a new car… I would imagine this was the time, as every project you can have in your life such as creating your own company, building a house or having kids. I guess as I didn't want or hadn't the possibility to realise this ones, I found another project to keep going and I'm glad I did it!
This 9-months travel experience in Latin America, New Zealand and Australia allowed me to develop my open-minded and outgoing personality, as well as my eagerness to meet new people. I've enjoyed discovering new countries, culture, and environment. I've also enjoy so much being back to work, even if it was sometimes hard & exhausting! All these experiences, from work to travel, taught me to respect a different way of thinking, to take common decisions and come to compromises.
So now, what's next?! I didn't finish to discover the world!!!

– I guess you need more than a life for that! – I still have to experience Asia, North America, Alaska, Africa, more deeply Latin America… Or shall I settle done now and move around from here? As this is such a nice feeling to have a cozy "home" where to come back to – a place where I feel safe & secure. Let see what life brings… Canada, Asia, Europe… All open possibilities, just a matter of opportunities and what I want to do… One thing I would advice you to do – and everyone can do it! Even for the smallest little thing: try everything you can to realize your dreams, it can be hard sometimes but when you feel you're on the right path, and achieve it, it makes you feel unbelievably good & happy! That's worth it believe me…
Something I learned & experienced during this journey is that life is a matter of knowing what you want. When you know that and put all you have to achieve it, you feel so good and life seems so much easier, even if sometimes you don't succeed you learn a lot out of the experience. Life is also a matter of choice out of the opportunities you have in front of you. You always have the choice, then it's a matter of what you want…

Good luck!